Welcome to B2B One of a Kind world!
Our website is now dedicated to professionals with the aim of creating a source of inspiration and access to Natural History decoration pieces for architects, interior designers and decorators. We strongly believe in cooperating on a win-win basis with solid clients and store owners who want to provide different atmospheres which stands out bringing a special touch with history to their customers, inspired by Nature.
We offer an extensive collection of unique pieces as a complement to your Store and Showroom, Residential, Office or Hospitality interiors' projects, as well as tailor-made projects once we have all the raw material and we are open to adapt and develop new models, turning your desired ideas and creations possible.
If you are a professional from this business you need to create an online business account that will be approved in 24h to 48h. Once your application is validated you get access to our collection prices and you will be able to order your selected pieces. All the information will be available with price details in order to make ordering as safe and easy as possible.
To complete the order, you just need to add the products to cart and complete the checkout steps.
Please note:
    Tax: the prices shown in the product page are without taxes. Once you complete your order, you will see final prices with tax included (23%) in the proforma invoice and the final invoice received by e-mail;
     Shipping costs: will be calculated later depending on your order volume;
     Payment method: bank wire after you receive final invoice by e-mail;
     Check your Spam Mailbox: you need to assure the capacity and allowance of your receiving emails of external contacts to complete all your order's steps.
Once you turn a regular One of a Kind client, the payment terms may be agreed depending on the frequency of the orders.
Our delivery time does not exceed five days on average, however it can be subject to stocks' issues or external factors. In every case, you will be noticed about all the details of your order by e-mail.
Our pieces are prepared with maximum caution and should be handled with care during the unpacking process due to their delicacy.
Our office is in Oporto, so you may also schedule and pick up your order by appointment through our contacts. This way, the shipping costs will not be considered.
We do tailor made pieces once we have the raw material and we can adapt it to the desired support. We also work in collaboration with interior designers to develop new ideas for pieces.
All One of a Kind articles are according to international rules and regulations. In case of protected species we only deal with specimen with respective CITES certificate. This way, all pieces are supplied with a certificate of authenticity – example below.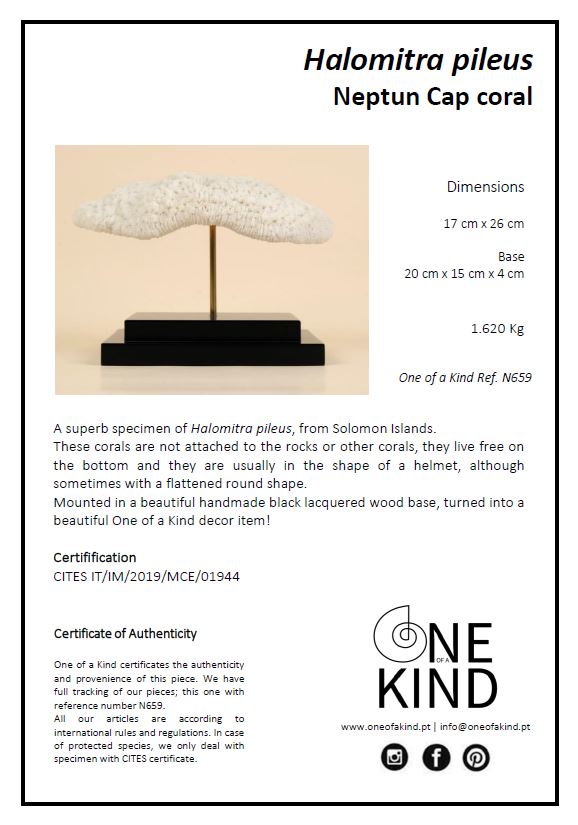 We are available for any questions you may have, through our e-mail, social media pages or mobile phone.
If you are a private or collector client, you may contact us through our contacts to know more about our pieces selection and our mission to bring Natural History into your homes and establishments.